Migrant workers cabins are where they stay after work.
Who Is Gonna Take Responsibility for 150 Million Unpaid Migrant Workers? Sophia Cao
Numbers:
- 10 billion yuan: the total amount of unpaid wages to migrant workers in mainland.
- 72.2%: the percentage of unpaid wages by construction companies.
- 6%: the percentage of migrant workers who can get paid monthly.
China Enacts Stronger Labor Law
New Rules to Protect Abused Migrant Workers
By Edward Cody
Washington Post Foreign Service
Saturday, June 30, 2007; D01
BEIJING, June 29 -- The Chinese legislature passed a law Friday to provide more protection to the millions of farm youths who leave home and become cheap labor in the factories and construction sites that have mushroomed in China's booming economy.
The Standing Committee of the China People's Congress, in approving the law, presented it as a bulwark against widespread abuses of the often-uneducated migrant workers, such as forced labor, withholding of pay and unwarranted dismissal. The country was alarmed two weeks ago, for example, by the discovery that hundreds of Chinese were forced to work in conditions resembling slavery at dozens of brick kilns in Shanxi province while local Communist Party officials did nothing to stop it.
In reaction, lawmakers at the last minute added a provision to the long-discussed labor code to mandate punishment for officials who are shown to be negligent or corrupt in allowing entrepreneurs to abuse workers. This and the unusual public rollout of the new law seemed designed to show the Chinese public that the central government of President Hu Jintao is determined to crack down on corrupt officials and protect those left behind by the swift economic growth of the past 25 years.
"The law is meant to protect the workers and their rights," Xin Chunying, who heads the Standing Committee's labor committee, said at a news conference. The Standing Committee is a permanent body of the China People's Congress, a legislature whose hundreds of provincial delegates meet once a year to voice approval for government policies.
Hu and his premier, Wen Jiabao, repeatedly have ordered crackdowns on negligent and corrupt local officials based on existing law, most recently after the kiln workers were discovered. Laws and regulations have long been in place to protect workers. But as is frequently the case in China, the enforcement of the rules has often been frustrated by collusion between local entrepreneurs and party officials eager to promote economic development and supplement their own bank accounts.
China forbids independent labor unions. The official All China Federation of Trade Unions, tied to the same party bureaucrats, functions as an arm of the government -- and thus of economic development -- more than as a watchdog for workers.
Legislators said one feature of the new law that might help workers is reinforcement of the requirement for detailed contracts spelling out what workers are entitled to in return for their time on the job. Construction workers in particular have found that frequently, after six months or a year on the job, their employers refuse to give them their pay, arguing that development companies ran out of cash and did not provide money to the construction companies.
Migrant workers -- as many as to 900 million have left farms to find jobs -- typically get dormitory-style housing and basic food as part of their benefits. They often work without pay until just before the Chinese New Year, when they are supposed to receive their back pay to enable them to return home and shower their families with gifts.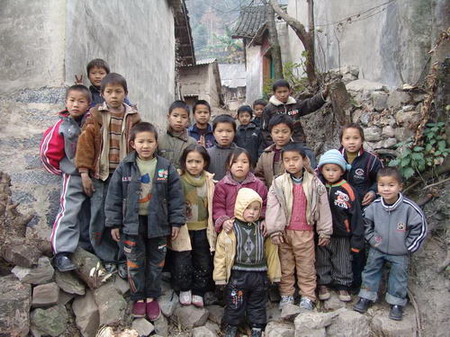 Eighteen children pose for a picture at a village in Ziyun Miao and Buyi Autonomous County in Southwest China's Guizhou Province, January 22, 2006. Among them, twelve children's parents left the village to work in big cities in coastal areas. [Zhao Hui/Guizhou Metropolis Daily]
Migrant workers 'have 20m' kids back home
By Wang Shanshan (China Daily)
Updated: 2007-01-29 07:04
More than 20 million children live with their grandparents or other relatives because their parents have migrated to other provinces in search of work, with many among them being forced to live alone.
According to a recent China National Children and Teenagers' Working Committee report, in agricultural provinces like East China's Anhui Province, as much as 22 percent of the children's parents have migrated and the number is increasing.
The number of migrant workers was more than 140 million in 2005, according to Chinese Academy of Social Sciences' figures.
And many of these parents' children suffer from loneliness, perform poorly at school and are prone to juvenile delinquency, it said.
The local media often reports their tragedy. One such case was the death of a 12-year-old in Suzhou of Anhui. The boy killed himself by drinking pesticides last year because he had no one to advise him how to solve his problems, according to his suicide note.
Though the working committee has vowed to organize the children into clubs and find them "acting parents to tackle the problem," their huge number means it could take years before such an arrangement is possible throughout the country.
A survey in Chaohu, in Anhui last year showed that migrating parents had left behind 116,000 children. About 952,000 people, including 55,000 couples from the paddy cultivation area, have migrated from Chaohu, according to Yu Zupeng, an official of the provincial committee of the Chinese Peasants' and Workers' Democratic Party, which carried out the survey.
About 1 percent, that is, more than 1,000, of these children have no guardians. Such children have little communication with their parents: most Chaohu migrants talk to their children over the phone just once or twice a month, and return home only during Spring Festival. Some don't even do that, the survey said.
Deprived of parental love, many such children prefer staying alone and often become rebellious. For instance, a girl in Chaohu set her grandparents' house on fire last year because she felt they couldn't understand her feelings.
They often feel frustrated at school, too. A recent survey on the 72 junior high schools in Wuwei County of Chaohu has showed that 80 percent of those who flunked the senior high school entrance exam in 2005 were such children, Yu said.
Another survey, conducted in Tangchi Town Junior High School of Lujiang County in Chaohu, showed that less than 1 percent of such children passed the senior high school entrance exam.
Also, only 4 percent always did well at school, whereas 64 percent remained at a mediocre level and 32 percent often failed in exams.
If the government wants to help these children, it should first make it easier for them to study in the cities where their parents work, Yu said.
(China Daily 01/29/2007