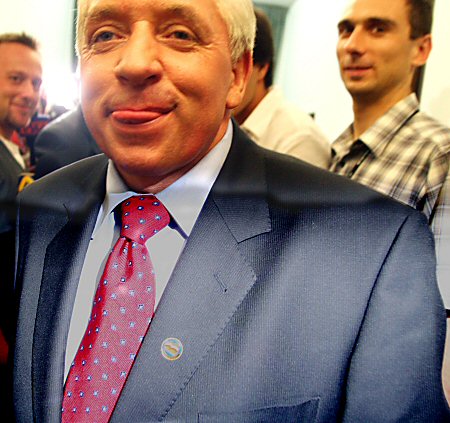 Andrzej Lepper
Sacked Polish deputy prime minister rejects corruption
The Associated Press
Wednesday, July 11, 2007
WARSAW, Poland: Poland's former deputy prime minister, Andrzej Lepper, on Wednesday rejected corruption allegations hanging over him as a deliberate "political provocation," but reiterated that his party would remain in the shaky governing coalition.
Prime Minister Jaroslaw Kaczynski fired Lepper, who leads a junior coalition partner, Self-Defense, as deputy premier and agriculture minister Monday after anti-corruption police linked him to a major corruption case.
But the story, which has gripped Poland, took a new twist Wednesday as details surfaced that the Anti-Corruption Office, created by Kaczynski's Law and Justice party, had conducted a sting operation against two allegedly corrupt businessmen who had boasted of their ties to Lepper.
Anti-Corruption Office chief Mariusz Kaminski outlined the agency's sting against the two businessmen, identified only as Piotr R. and Andrzej K. in line with Polish privacy laws. Police arrested both men last week.
In justifying the suspicions against Lepper, Kaminski described Piotr R. as a person "very closely tied to the leadership of Self-Defense, and having real, frequent contact with Andrzej Lepper."
The agency launched the operation in January. Undercover agents posing as businessmen struck a deal with Piotr R. and Andrzej K. to pay them 3 million zlotys (US$1.1 million; €800,000) in exchange for using their close ties to the Agriculture Ministry to rezone lakeside land for development in northeastern Poland, Kaminski said.
After a six-month operation, agents agreed to meet with the suspects last week at a hotel to swap the money for the necessary signed and stamped documents from the ministry, Kaminski said. He added that the agency used legally faulty documents to dupe the businessmen, and that agents taped and documented everything over the course of the sting.
"We didn't know the shadow of suspicion would fall on the agriculture minister when we started the operations," Kaminski said. But he also said that "the goal of the agency is to fight corruption in the sphere of power."
Lepper called the sting operation a "prepared political provocation" aimed at him, and called for the parliamentary committee for special services and the justice committee to investigate the issue.
"According to my information, I can tell you today that the provocation was prepared against me as a person, someone who is a threat as a party chief and eventual candidate for president in 2010 elections," Lepper said.
Lepper was a candidate in the 2005 presidential race. He took 15 percent of the vote in the first round of the two-round contest, finishing third behind eventual winner Lech Kaczynski, the prime minister's twin brother.
Kaminski rejected the accusations: "This is not a political issue, this is a fight with corruption."
The premier dismissed Lepper's criticism of the Anti-Corruption Office and said it had engaged in "normal, legal" actions.
"The operation was not directed against Andrzej Lepper, but instead against two men who have been arrested," Kaczynski told reporters in the Baltic port town of Swinoujscie. "Nobody knew at the beginning (of the investigation) that it would lead to Andrzej Lepper."
On Tuesday, Self-Defense opted to stay in the governing coalition, but demanded that authorities present proof by Friday of Lepper's alleged wrongdoing.
The prime minister brushed aside that demand, saying that presenting such evidence is a matter for prosecutors and courts.
Self-Defense's decision to stay put staves off the immediate threat of fresh elections, and keeps the governing coalition's majority in parliament intact — at least for now.
In comments published earlier Wednesday in the Fakt daily, Prime Minister Kaczynski praised Self-Defense's decision, calling it "the best way out" of the current turbulence.
But, he added guardedly: "We'll see whether it will last."
=============================================================
Sacked polish deputy prime minister wants anti-graft bureau probed
Posted on : 2007-07-12 | Author : DPA
News Category : World
Warsaw - Andrzej Lepper, sacked Monday as Poland's deputy prime minister over allegations of corruption, Thursday called for a special parliamentary commission to probe the Anti-Corruption Bureau (CBA) operation which he claims tried to frame him. "The role of politicians in this case, perhaps the prime minister in all this, in thinking up this entire affair, must be investigated," Lepper told reporters in Warsaw.
The leader of the Samoobrona (Self Defence) farmers' party alleged the CBA, created by the conservative Law and Justice-led (PiS) government of Prime Minister Jaroslaw Kaczynski to rid the state of graft, was being used as a political police to eliminate PiS rivals.
Kaczynski announced Lepper's shock dismissal from the post of deputy prime minister and agriculture minister Monday evening in connection with a CBA probe which the Polish dialy Dziennik claims appears to have tried to set up Lepper in a bribery investigation.
CBA investigators also appear to have no concrete evidence suggesting Lepper took a bribe in connection with the case, based on the re-zoning agricultural land for commercial and residential use in the Mazurian Lakes region, a popular holiday destination in north- east Poland.
Opposition politicians have already called for the CBA to be dismantled.
Lepper said Thursday his party would stay in the tri-party coalition government of PiS Prime Minister Jaroslaw Kaczynski, at for the time being, and demanded the CBA make public hard evidence of the allegations against him by Friday.
The Samoobrona party leader insists he is completely innocent.
His dismissal on Monday threw the future of the Kaczynski government into uncertainty, with the prime minister himself saying early elections were possible this coming fall.
Political crisis appeared to have been averted, at least temporarily, on Tuesday when Lepper said his party would conditionally stay in government, despite his dismissal.
However, Lepper said Thursday he expected early elections "in a short while, certainly not in the statutory time frame."
Poland's next regularly scheduled general election is due in the fall of 2009.
PiS Prime Minister Kaczynski took command of the rocky tri-party coalition government including Samoobrona and the right-wing Catholic nationalist League of Polish Families (LPR) a year ago, after taking over from Kazimierz Marcinkiewicz.
Print Source :
http://www.earthtimes.org/articles/show/81975.html
© 2007 earthtimes.org. All Rights Reserved.