Chirac and De Villepin
Clearstream: a guide to a murky dirty tricks story
PARIS, May 14, 2006 (AFP) - For three weeks the French government has been reeling from a murky corruption scandal featuring mystery informants, secret bank accounts, extra-judicial probes and an alleged plot to destabilise Interior Minister Nicolas Sarkozy.
Prime Minister Dominique de Villepin has been openly accused of lying, and is under pressure to resign.
Here are some key questions and answers on the so-called Clearstream affair.
Q. What are the origins of the affair?
A. In mid-2004 an unknown informant sent letters and a CD-ROM to a judge who was looking into irregularities in the sale of French warships to Taiwan 10 years earlier. Included were lists of names of supposed beneficiaries of illegal commissions who used a clearing-bank in Luxembourg called Clearstream. Among several politicians named was Nicolas Sarkozy, the head of the ruling Union for a Popular Movement (UMP) who is a favourite for 2007 presidential elections.
Q. What happened next?
A. An investigation by the domestic intelligence agency DST concluded that the lists were fake. A judicial enquiry was then launched to establish the identity of the mystery snitch and his motives for smearing Sarkozy and the others.
Q. So it was a put-up job. Why all the noise?
A. The affair has vast political ramifications because of the well-known rivalry between Villepin and President Jacques Chirac on the one hand, and Sarkozy on the other. Sarkozy believes he was the victim of a dirty tricks campaign.
Q. Is anyone seriously suggesting that Villepin and Chirac dreamed up the idea of the Clearstream lists in order to smear Sarkozy. Surely that is far-fetched?
A. That allegation is indeed hard to sustain. Much more plausible is that Chirac and Villepin became aware quite early of the allegations against their government colleague. Instead of declaring them publicly or handing the dossier to the judiciary, the charge is that they tried to exploit the information for their own ends.
Q. What evidence is there for that?
A. There has been a series of leaks in the French press which raise serious questions about Villepin and Chirac's version of events. A senior intelligence official General Philippe Rondot has said under oath that in January 2004 he was charged by Villepin — who was then foreign minister — with running a secret enquiry to see if the allegations against Sarkozy were true. Rondot also says that Villepin invoked Chirac's authority to order the enquiry. This has been repeatedly denied by Villepin before the National Assembly, while Chirac has denounced what he sees as a media witchhunt.
Q. So if Chirac and Villepin didn't concoct the lists, who did?
A. There we are in very murky territory. It looks almost certain that the mystery informant who sent the lists to the judge is a top official at the European defence company EADS. Jean-Louis Gergorin is a highly regarded, but highly discreet, foreign affairs specialist who has known Villepin for 25 years. The prevailing theory is that Gergorin may have originally used the Clearstream account lists as part of an internal power-struggle at EADS. When he failed to attract the attention of the government, he added the names of politicians. But we still do not know if Gergorin actually compiled the lists, or was manipulated by someone else. He is to be questioned by the judges.
Q. What are the implications for Villepin, Chirac and the government?
A. Villepin is under intense pressure to resign. Even the right-wing newspaper Le Figaro has accused him of lying. But as he showed in the debacle over his youth jobs programme — which he was forced to abandon last month after weeks of mass protests — Villepin is not the resigning kind. Another factor that suggests he will stay in office is that there is no obvious alternative as prime minister. Sarkozy certainly does not want the job, because he wants to present himself as the candidate of right-wing change in 2007. One source of speculation is that Sarkozy himself may leave the government to distance himself from the mess. So Chirac and Villepin may well be destined to stumble on together for another year.
Copyright AFP
=========================================================
'French Watergate': timeline of a political scandal
PARIS, May 14, 2006 (AFP) - French Prime Minister Dominique de Villepin's job was under threat on Saturday. He is accused of ordering a secret probe into his chief political rival, Interior Minister Nicolas Sarkozy, and of then lying to cover up the scandal.
The following is a chronology of the "Clearstream affair":
2001
June: Inquiry opens into suspicions that kickbacks were paid to French officials for the 2.8-billion-dollar sale of French frigates to Taiwan in 1991. Investigation headed by judge Renaud van Ruymbeke.
2004
January 9: Dominique de Villepin, then foreign minister, asks senior intelligence officer General Philippe Rondot to investigate "rumours" of corruption linked to the frigate deal. The details of their meeting — which have been gradually emerging — are pivotal to the case.
May 3 and June 14: Judge van Ruymbeke receives two letters and a CD-Rom, sent by an anonymous informer, which alleges high-profile people received illegal commissions worth millions of dollars from the frigate deal. The informer gives the numbers of their accounts at Luxembourg-based clearing bank Clearstream, which is alleged to have handled the illicit payments. Among the businessmen and politicians mentioned are Sarkozy, then finance minister.
September 3: A defamation inquiry, headed by judges Jean-Marie d'Huy and Henri Pons, is launched following legal action by several of the industrialists targeted by the allegations.
November: The case takes a political turn, with Sarkozy accusing Villepin — his chief rival to become the centre-right's candidate in the 2007 presidential election — of keeping secret an intelligence report that show the corruption claims were fabricated.
2005
December: Judge Van Ruymbeke establishes that the whistleblower's claims are bogus.
2006
January: Sarkozy becomes a civil plaintiff in the defamation inquiry in order to gain access to the case files.
Late March/early April: Investigating magistrates search the offices of Airbus boss Gustave Humbert and the foreign intelligence service (DGSE) in a bid to reveal the whistleblower's identity.
April 13: The offices of Defence Minister Michèle Alliot-Marie and ex-spy chief General Rondot are searched.
April 28: Le Monde newspaper says Rondot told judges that Villepin had asked him, on January 9, 2004, to investigate Sarkozy on the orders of President Jacques Chirac. Villepin and Chirac deny the claims.
May 2: Villepin rules out resigning, saying he has been "unjustly accused". Rondot denies that Villepin had asked him to investigate any politicians. Le Monde publishes extracts from a report Rondot made to the defence ministry on the case, which does not mention any political figures.
May 3: Le Monde publishes leaks from Rondot's sworn testimony which contradict Villepin on several key points.
Rondot says the Clearstream account lists were discussed at the January 2004 meeting, that Sarkozy's name came up as one of the politicians listed, that Villepin asked Rondot to check out the claims, and that the order came from Chirac.
Villepin's and Chirac's office repeats their denials of the claims.
May 4: The right-wing Le Figaro newspaper, which until now backed Villepin, openly accuses him of lying. The prime minister again rules out resigning but ducks direct questions from the press over whether he lied.
Villepin nonetheless admits Sarkozy's name was mentioned at the January 2004 meeting but in his capacity as interior minister and not in relation to any secret accounts.
Defence Minister Michele Alliot-Marie says she was indirectly targeted after the media reveals the name of her partner, parliamentarian Patrick Ollier, has surfaced in closed-door discussions about Clearstream.
May 9: At his own request, Sarkozy is interviewed by a judge investigating the bogus corruption allegations.
A legal source says documents have been taken from the file.
Satirical weekly Le Canard Enchaîné says General Rondot has told magistrates of an investigation — unrelated to Clearstream — into reports that President Chirac has a secret 45.5-million-euro (57-million-dollar) account in Japan's Sowa Bank. Chirac denies the account ever existed.
May 10: Chirac reiterates his confidence in Villepin and attacks the "outrageous ... disrespect and exploitation ... of legal procedures".
The opposition Socialists officially request a vote of no-confidence in Villepin. The vote is set for May 16.
May 11: Le Monde publishes excerpts of hand-written notes kept by Rondot that show Chirac's direct involvement in ordering him to carry out the secret inquiry into his rival Sarkozy. The notes show Chirac and Villepin are aware of the political dangers if Rondot's investigation is made public.
May 12: Judges search the home of Imad Lahoud, a former computer expert at European aerospace company EADS who has worked for the intelligence service. He is thought to have had access to the Clearstream account lists and is a colleague of EADS vice-president Jean-Louis Gergorin, who is thought to be the mystery whistleblower.
May 13: Police say they have searched the homes of François Heilbronner — a former government colleague of Chirac's and father-in-law to Imad Lahoud — and of Lahoud's brother Marwan, head of European arms firm MBDA, in which EADS holds a major stake.
Sarkozy vows to continue as interior minister, dismissing calls from allies to distance himself from the scandal-hit government so as to boost his chances of becoming president in 2007. "I want justice, real justice, not political revenge," he says.
Copyright AFP
=========================================================
Sarkozy, Chirac, De Villepin
Power and lies: a French political thriller unfolds
PARIS, April 20, 2006 (AFP) - A shadowy plot to smear a top politician, a power-struggle at a major defence group — a political thriller is unfolding in France as a probe into bogus charges of corruption moves closer to the inner circles of government.
Two French judges are hunting for the identity of a mysterious informer who falsely accused a string of top politicians and businessmen — including Interior Minister Nicolas Sarkozy — of running secret bank accounts abroad.
The so-called 'Clearstream affair' has gathered momentum in recent weeks, with searches at the office of Defence Minister Michèle Alliot-Marie, and the offices of senior French intelligence officials and industrialists.
Several newspapers have suggested that Prime Minister Dominique de Villepin's offices could be next on the list.
The case goes back to 2004, when a set of documents and CD-Roms were sent anonymously to the judge Renaud Van Ruymbeke, naming Sarkozy and a string of others as holders of secret accounts at the Luxembourg-based bank Clearstream.
Three businessmen — including Airbus number two Philippe Delmas — were also accused of receiving kickbacks from the 2.8-billion-dollar sale of French frigates to Taiwan in 1991, which Ruymbeke was investigating at the time.
A brief inquiry revealed the documents to be faked, and a defamation lawsuit was opened following legal action by Delmas and another industrialist.
Sarkozy — the centre-right favourite for next year's presidential election — suspects an attempt to discredit him, carried out with possible support from political rivals in his own camp, Villepin chief among them.
Determined to pin down those responsible for the smear, Sarkozy became a civil plaintiff in the lawsuit in January this year, in order to gain access to the case files.
He was followed this month by EADS, two ex-ministers — the Socialist Dominique Strauss-Kahn and the centre-left Jean-Pierre Chevènement — and the centre-right deputy Alain Madelin.
Investigators believe the claims may have been linked to a leadership struggle at the European defence and aerospace giant EADS, where Noël Forgeard took over as co-chief executive last year.
But the complex affair has also poisoned the already hostile relations between Sarkozy and Villepin, who as interior minister at the time ordered the DST French intelligence agency to look into the claims.
Sarkozy's supporters have accused the prime minister of keeping the DST's findings — which confirmed that the charges were bogus — under wraps.
Adding to the tension, the DST also suggested that EADS vice-chairman Jean-Louis Gergorin — an ally of the prime minister — could be the mysterious informer, although the executive denies all involvement.
Investigators searched Gergorin's Paris home and EADS offices early this month.
Meanwhile, Alliot-Marie said following Wednesday's cabinet meeting that the search of her office — and that of her former intelligence chief General Philippe Rondot — was "a mystery".
In a final twist, however, the satirical French weekly Le Canard Enchaîné suggested in its latest issue that the searches could in fact be linked to a shadowy affair implicating President Jacques Chirac.
During the search of Rondot's office, the paper said, the judges seized a folder belonging to a French magistrate who was accused by the presidency in 2001 of investigating claims that Chirac owned secret bank accounts in Japan.
Copyright AFP
=========================================================
New material implicates former PM in Clearstream scandal
PARIS, July 4, 2007 (AFP) - Material found on the computer of one of the main figures in the Clearstream affair implicates former French prime minister Dominique de Villepin, sources close to the case said Wednesday.
The scandal centred on bogus allegations which surfaced in 2004 that several top French politicians and businessmen, including current President Nicolas Sarkozy, laundered bribes at banks registered at Luxembourg-based Clearstream.
The material suggests that Villepin set up a secret meeting in 2004 between diplomat and businessman Jean-Louis Gergorin and investigating magistrate Renaud van Ruymbeke.
Following the meeting Gergorin "anonymously" sent the bogus list of people involved to the judge.
According to sources close to the case, the material suggests that the idea to send the phoney list of names came from the former prime minister.
The information was found on the portable computer of French senior intelligence official, general Philippe Rondot.
Investigating magistrates questioned Rondot as a witness for nearly 10 hours Wednesday on the contents of his computer.
In 2004, Villepin asked Rondot to conduct a secret enquiry into the Clearstream names.
The people whose names figured on the lists, including Sarkozy, were falsely alleged to have received illegal commissions from the sale of French warships to Taiwan in 1991.
Sarkozy said he was the victim of a dirty tricks campaign to block his eventually successful bid for the presidency.
Former president Jacques Chirac has so far refused to testify and has categorically denied any wrongdoing.
Copyright AFP
==================================================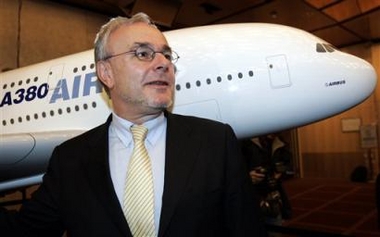 Investigators raid Airbus chief's offices
PARIS, April 5, 2006 (AFP) - French investigators on Wednesday raided the offices of Airbus chief executive Gustav Humbert, as part of a defamation probe launched after senior French figures were falsely accused of money-laundering, a source close to the case told AFP.
The search carried out at Humbert's offices, near the south-western city of Toulouse, followed a series of raids targeting top executives from the European defence and aerospace giant EADS, which owns 80 percent of Airbus.
EADS vice-chairman Jean-Louis Gergorin, and co-chief-executive Noël Forgeard — as well as several senior French intelligence figures — have been targeted in the probe, in which Interior Minister Nicolas Sarkozy is a civil plaintiff.
Investigators are trying to identify an anonymous informer who accused a string of top French figures, including Sarkozy, of running secret bank accounts through the Luxembourg-based clearing house Clearstream.
The accusations, targeting French businessmen, politicians and police officers, were sent in 2004 to the judge investigating alleged corruption in the sale of French frigates to Taiwan, and later revealed to be a fabrication.
A four-year French probe has alleged that a large part of the US $2.8 billion dollars (EUR 2.37 billion) paid by Taiwan for six French-made frigates in 1991 went on commissions to politicians and military officers.
French investigators opened a defamation probe against the mysterious informer, following legal action by two of the industrialists, former Thomson boss Alain Gomez, and Philippe Delmas, a top EADS executive.
Copyright AFP